Little Kids, Big Adventures From Nursery to Senior Kg.
1st November Every Year • Academic year 2024-25 Std I to std X.
1st November Every Year • Academic year 2022-23 Std I to std X.

Registration forms for admission will be issued from 1st November every year.
Forms should be duly completed and submitted at the school office along with the required documents. Submission of the registration form only does not guarantee admission.
Admission shall be granted on first-come-first-served basis as per availability of seats.
Once admission is granted, the same shall be confirmed only after payment of admission fees and fees for the first half of the academic year. No claim for a refund will be entertained once a child has taken admission in the school.
Preference shall be given to siblings of existing students enrolled at Akshara High School.
Preference shall also be given to students residing in the immediate neighborhood
No admission tests shall be conducted, either for children or for parents from Nursery to STD II.
For higher standards, proficiency in English, Math's and Hindi will be assessed.
We believe in offering fair and tailored fees information to meet your needs. Our admissions team will assist you promptly and provide you with the personalized fee chart based on your socio-economic background.
Call us during Office Hours
| | |
| --- | --- |
| Monday to Friday | 10:00 AM to 04:00 PM |
| First & Fourth Saturday | 10:00 AM to 01:00 PM |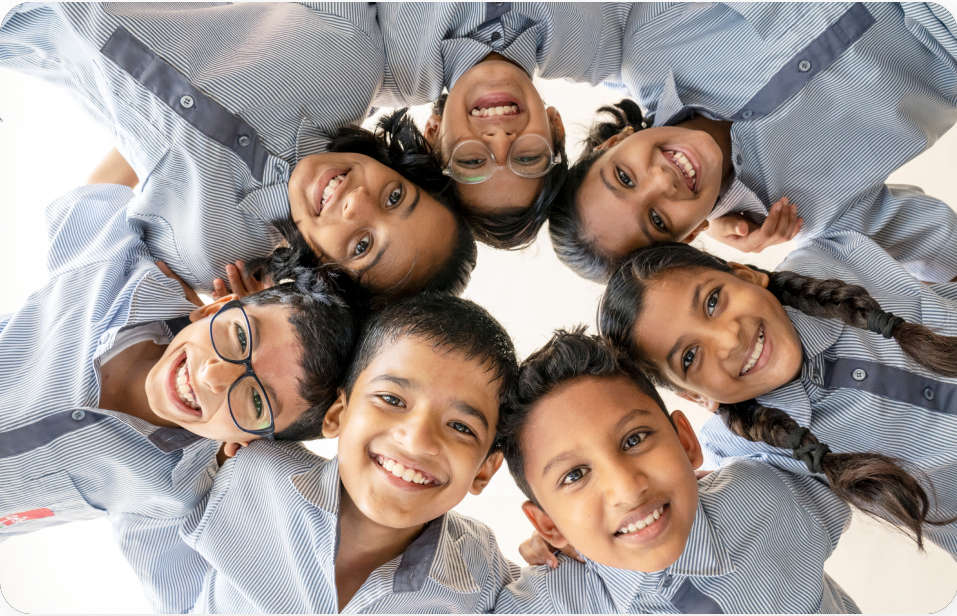 Submission of the below documents and fee payment along with the Registration form is COMPULSORY to confirm the admission.
Original Birth certificate plus one attested Photocopy.
Original School Leaving Certificate of previous school attended.
One Passport size Photograph (Latest) to be pasted on the form.
Residence Proof (Attested Photocopy • Latest Electricity Bill OR Passport of child/parent) OR Attested copy • lease/flat agreement
Blood Group of the child (On Doctor's Letterhead with signature and stamp).
Aadhar Card copies both the Parent & Student.
as on 31st December of academic session applied
| Grade | AGE |
| --- | --- |
| Grade I | 6 years |
| Grade II to X | And so on... |
1 : 20 Teacher-student ratio in spacious classes for personal attention
3 Science laboratories (Physics, Chemistry, Biology)
Akshara is located in a green zone surrounded by mangroves, creating a learning environment that enhances the schooling of our students. The school campus is specifically designed to create an environment that shall nurture the personality of every child and also support the learning process.
Three Science laboratories(Physics, Chemistry, Biology) setup by Agastya International Foundation, Bangalore, for hands-on learning.
A specially designed Art Lab setup by Art1st, with professional art material to provide a range of sensory and aesthetic experiences. Visiting artist mentors provide training and guidance to our teachers.
A new Language & Social Science Laboratory to make concepts visual and tangible.
Two activity rooms with materials for hands-on learning and audio-visual facilities.
A Library with an age-specific Reading Programme and An Enhancement Centre for additional academic support
A Computer Lab for project research.
Classrooms are large, well lit and ventilated and well-equipped with learning aids and teaching materials.
Separate toilets for girls and boys on every floor. Drinking water on every floor.
Large scenic playground on campus, with facilities for athletics, football, throwball, volleyball, kho-kho and a dedicated Indoor Sports Room with table tennis tables, carrom, chess, trampoline and other indoor games facilities.
Play Area with outdoor equipment for pre-primary.
School garden with more than 40 varieties of trees, flowering shrubs and a vegetable patch with a compost pit.
Counseling and remedial Centre.
Medical room.
Facilities for training in Yoga and Performing Arts, such as Music, Dance and Drama.
Sports, Music and Arts is a part of the curriculum.
The School is built on a plot allotted for a secondary school building by the MHADA (Mumbai Housing Area Development Authority) and has received all necessary permissions for the same.
The School has received an NOC (No Objection Certificate) from the Govt. of Maharashtra for affiliation to the ICSE Board and affiliation certificate for ICSE has been received.